Creation sets
Creation sets make it easy to set up new groups by automatically copying or inheriting dashboards when you create a new group. This eliminates the need to manually copy dashboards. This is especially useful if you want to set up many groups with the same dashboards.
Manage creation sets
Activate the edit mode by clicking Edit Dashboards.

In the More menu, click the Manage Creation Sets item.

Add creation sets on the left side of the displayed dialog. On the right, you can assign existing dashboards to the creation set.

Exit the dialog by clicking Close.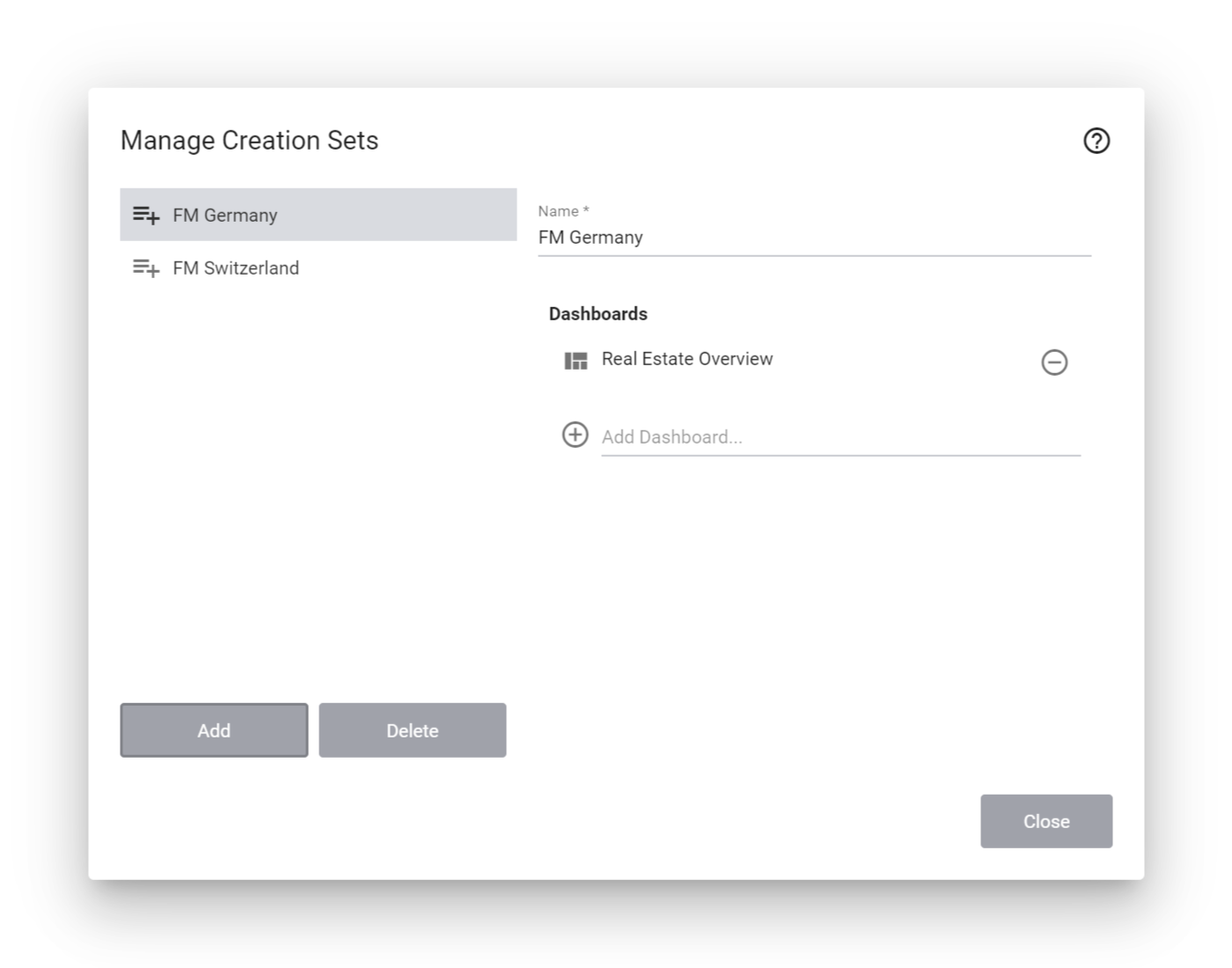 Assign a dashboard to a creation set
Instead of editing the creation set and adding dashboards, you can also proceed in the opposite direction and assign a dashboard to one or more creation sets, either directly when you create it or later when you edit it.
Activate the edit mode by clicking on Edit Dashboards.

In the action bar, click More and then click Configure Dashboard.

In the Creation Sets section, add the dashboard to one or more creation sets and save the changes by clicking Save.
Apply a creation set when creating a group
After the initial setup, you can experience how easy it is now to create a new group when you frequently need to use the same dashboards for new groups.
Go to the group navigation by clicking on Show Navigation.

Select the group under which the new group is to be added.

Add a new group by clicking on Edit Groups and then on Add Group.

Fill in all required fields. Then scroll all the way down until you see the Create Dashboards from Creation Set section.

Select the required creation set. By default, all dashboards from the selected creation set are copied to the new group.

Clicking on Save at the top right creates the new group and the corresponding dashboards are automatically applied.