Create dashboards
New dashboard
To create a new dashboard, select the group for which you want to create the dashboard and click on the Edit Groups icon at the top right and then on Add Dashboard.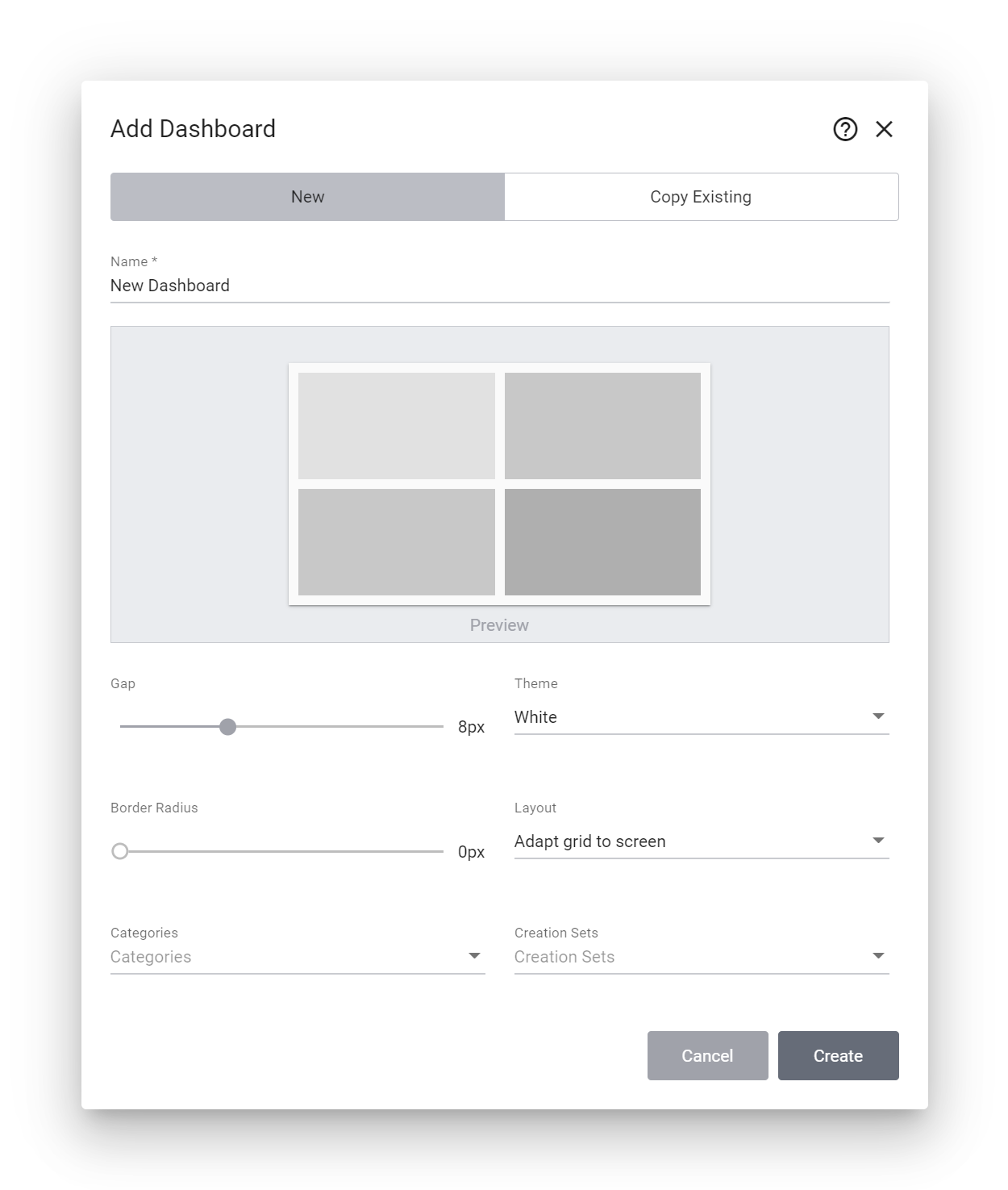 In this dialog you can create a new dashboard on the first tab. When you do so, the following settings are offered:
Name

The name of the new dashboard.

Layout

Specify whether you want the dashboard to automatically adjust to the available screen size, or if you prefer to scroll when placing many widgets.

Gutter

Adjust the space between the individual widgets.

Border Radius

Set how much the corners of the widgets should be rounded.

Categories

Assign one or more categories to the dashboard. Categories help you search or filter dashboards later, but can also be used to access permissions if you only want to share dashboards of certain categories with certain users.

Creation sets

If you want to add the new dashboard to one or more existing creations sets, select them here.
Alternatively, you can create a new dashboard by first entering the edit mode. To do this, click on an existing group and select one of the dashboards in that group. Next, click on Edit Dashboards on the top right. The edit mode is activated, as you can see by the orange band above the main area. Click on More and then on Add Dashboard.
To edit or delete a dashboard, click on Configure Dashboard or Delete Dashboard, respectively, in the same More menu.
Reuse existing dashboards
The Add Dashboard dialog allows you not only to create new dashboards, but also to reuse existing dashboards. To copy an existing dashboard, select the Copy Existing tab at the top of the dialog, then select an existing dashboard and enter a new name below. Click on Create to create an exact copy of the selected dashboad, including alle the widgets that are placed on it.